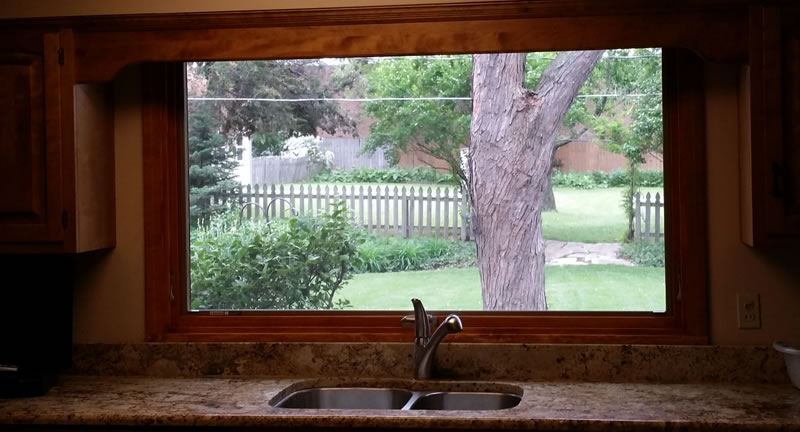 Wood Windows In Naperville Illinois
Wood windows offer a timeless, elegant look that can compliment your home or building.  Wood windows are an even better match if your home or building is of a more rustic style of construction such as a log home or a timber frame home or a historic or heritage building or even if you have lots of wood decorating such as wood trim, wood furniture or hardwood flooring.  If that's the case wood-framed window replacements can keep the same style and warm feel you're used to but with the modern performance you'd expect from a window replacement.
Why Do You Want New Wood Windows?
Your existing wood windows are old and need replacing?
Do your existing wood windows have water damage?
Do you want to improve the appearance of your home?
Do you have a rustic style home and want the look of wood?
Naperville Windows & Doors® is a window installation contractor based out of Naperville, IL and serving the surrounding area.  We specialize in the sales and installation of high-quality wood-framed windows from leading manufacturers like Marvin Windows.  Whether you want to replace one window in your home or all the windows in your home you'll find our selection is amazing, our customer service is unmatched, and our pricing on wood-framed replacement windows is unbeatable by our competitors.
Wood Window Pre-Staining Service
We offer a pre-staining option for the wood windows we install.  We can pre-stain your wood window frames in your desired color or tint prior to installation in our warehouse.  This way you don't have to worry about painting or staining your windows after they've been installed.  We pre-finish the window frames including all of the trim so there is nothing you have to worry about after the installation is complete.
Wood Window Styles We Install:
Double-hung wood windows
Single-hung wood windows
Casement wood windows
Slider wood windows
Awning wood windows
Bay or bow wood windows
Picture wood windows
Custom shape wood windows
Wood windows are available in different stain tints with decorative wood trim and wood molding to compliment or closely match your current interior decorating style.
What You Need To Know About Wood Windows
Wood Windows Offer A Classic Appearance:  Wood framed windows add a touch of class to your home with their appearance.
Wood Is Environmentally Sustainable:  If you're concerned with choosing an environmentally friendly option wood is a sustainable resource.  Wood is also a really good insulator so wood windows can also offer better energy efficiency than other windows.
Wood Window Frames Can Be Stained, Painted or Cladded:  While wood framed windows are available in a variety of color and stain options they can still be painted or stained to match your existing finishing.  They can also be cladded with with metal for a really fancy finish. Wood framed windows can also be refinished several years down the road if the finish ever begins to crack or fade or you change some of the interior finishing in your home or building.
Are you ready to get the process started?  If you'd like to schedule your FREE Quote for Wood Windows please give us a call at (630) 904-9644.